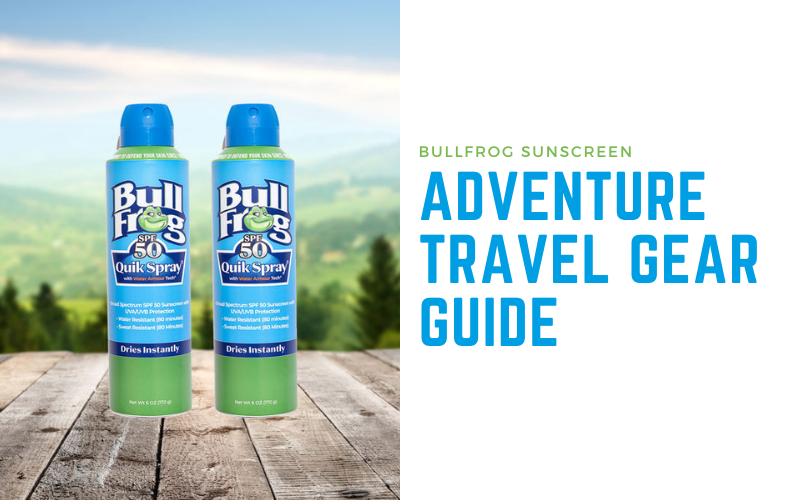 Nine Essential Items for the Outdoors 
Having the right essential items for outdoor adventures makes trekking and exploring safer, easier, and more fun for the entire family. The art of packing must-haves for the outdoors involves making the most out of every inch of available space without cutting safety corners. This is why two-in-one travel products always make the top of the list. Take a look at nine things every outdoor adventurer needs.
1. A Travel Backpack
Trying to repurpose an everyday pack for outdoor adventures doesn't work. Ordinary backpacks don't have the material, composition, compartments, and structure needed for comfortable long-term wear. In a best-case scenario, you'll end up with a sore back and shoulders. In a worst-case scenario, you'll end up with total bag failure that forces you to leave gear behind on the trail. A 30-liter backpack is preferred for fitting all of the essentials necessary for a safe trip. Ideally, a backpack will have waterproof elements that allow you to keep sensitive gear shielded from moisture. Finally, straps and belts that allow you to carry the weight of your pack evenly provide significant ergonomic benefits.
2. Headlamps
Pack enough headlamps for everyone! These outdoor must-haves make it easy to keep track of everyone in your crew as twilight moves in. In addition to lighting the path in front of you, headlamps also make it easy to see where everyone is situated while you're tending to the fire. Headlamps are essential when including the littlest adventurers in your family in treks because you can quickly do headcounts after dark without the need to yell across a campsite.
3. A Good Sunscreen and Insect Repellent
Two-in-one sunscreen with insect repellent is one of the most critical items for outdoor adventures because it covers two of your most significant vulnerabilities while out in nature; sun and bugs! We know that when you're outdoors, convenience is everything! You can pack less and get more with Bullfrogs patented, DEET-Free repellent formula and SPF 50 protection. Mosquito Coast is the perfect combination of trusted broad spectrum UVA/UVB sunscreen & Insect Repellent in one, with up to 8 hours of bug protection. 
It's no surprise that outdoors people have relied on Bullfrog's sun-and-bug formulas to protect their skin from all angles since 1985. Bullfrog two-in-one sunscreen and insect repellent offers long-lasting SPF 50 UVA/UVB protection that the whole family can use. Spray, play, and stay protected with these safe, soothing, and water-resistant formulas that absorb quickly. While taking time out to apply sunscreen and bug spray can feel disruptive when you're trekking along, using the hack of combining sunscreen and insect repellent will make it easier to avoid painful, dangerous sunburns and bites that could wreak havoc on any adventure.
4. Real Trail Shoes
Fashion sneakers fall apart quickly on trails. In addition to creating achy soles and arches, the wrong shoes can also put you at risk for everything from a twisted ankle to dashed toes. Shop for trail shoes based on your trekking style. If you tend to hike in rocky terrain, hiking boots with ankle support are ideal. Trail runners can swap their ordinary running sneakers for trail running shoes that provide extra support and absorption.
5. A Fire Kit
While there's something noble about roughing it by getting the campfire going with some twigs, you want to avoid getting stuck in a rough spot with fire. Always pack a fire-starting kit as a backup option to ensure you are able to create warmth at your campsite. Even highly experienced campers can struggle to get a match to catch on in the wrong conditions.
6. A Serious Sleeping Bag
There's nothing wrong with overshooting it when it comes to your sleeping bag. While you may never actually camp in below-freezing conditions, it's crucial to have a bag that will save your life in the event that you get stuck in a chillier situation than you anticipated. A 15-degree sleeping bag will keep you comfortable during overnight wintertime adventures without worries that your bag will leave you overexposed if temperatures dip lower than expected. The beauty of going with a 15-degree sleeping bag is that you'll have a three-season bag instead of just a summer bag. The truth is that moisture, wind, and other factors can cause conditions to feel much chillier than the thermostat reads.
7. A Solar Charger
A solar-powered charger is one of the modern must-haves for the outdoors. Going into the wild doesn't have to mean entering a digital wilderness. A solar-powered charger allows you to harness the power of nature for dependable power far from the city lights. A solar-powered charger is the best way to power a mobile phone during a hiking trip to ensure that you can check in if you need to get directions, look up survival tips, call for help, or simply provide updates for loved ones back home. A fully charged phone in the wild also ensures you can capture your experience's photos!
8. A Fully Stocked Health Kit
A getaway bag isn't packed unless it has an updated, fully functional first-aid kit. Having a first-aid kit is essential for everything from treating wounds to preventing severe allergic reactions. The ability to access the first-aid kit within minutes of an injury can be vital for preventing infections, blood loss, and anaphylaxis. You can find everything the CDC recommends for a complete travel first-aid kit here.
9. A Portable Water Filter
Access to water can make or break our ability to survive any time in the wilderness. Ideally, water bottles, portable water bladders, and other dependable water sources that you take with you will account for your access to fresh water during a trek. However, it's essential to have a plan for getting water if you're unexpectedly cut off from access to your own water supply. A portable water filtration system allows you to make essentially any water stream a source of clean, drinkable water.
Packing Smarter Makes You Safer During Adventure Travel
The irony of a free-spirited vacation is that you can't wing it when it comes to packing your bags. Preparation is crucial for ensuring a safe, relaxing trip. Luckily, a combination of portable outdoor gear, two-in-one products, and ergonomic designs can give you a lightweight feeling while having everything every outdoor adventurer needs!