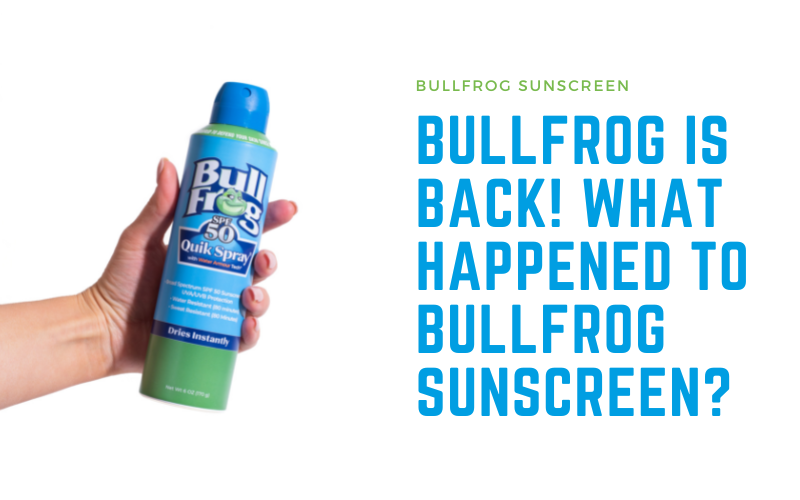 Are you wondering what happened to Bullfrog sunscreen? The same sunscreen that people have trusted to protect their skin since 1985 hasn't gone anywhere. Bullfrog has gone through a rebrand that brought life to the beloved sunscreen that's kept outdoor lovers happy for decades. Offering an incredible collection of sunscreens and bug repellents, Bullfrog makes it easy to pick a lotion, spray, or gel offering broad-spectrum UVA/UVB protection in a fast-absorbing, non-greasy, and long-lasting formula. Get to know Bullfrog all over again by browsing our lineup of the best sunscreen products for smooth, long-lasting protection that's also safe for your skin and the environment.
The Sunscreen That's For Anyone That Loves Being Outdoors
For the past decade, Bullfrog was marketed specifically to outdoorsmen. Fishermen and adventurers came to rely on Bullfrog's collection of sunscreen and bug repellents to keep them protected while being active in rugged, exposed environments. Bullfrog's water resistance was a natural fit for fishermen, surfers, and others. However, the secret behind Bullfrog's enduring protection wasn't intended to stay a secret forever! The goal now is to re-introduce the brand  to anyone that enjoys the outdoors. It's safe for kids, enriched with soothing aloe and antioxidants and is Hawaii Act 104 Reef Compliant. Today, Bullfrog is the preferred sunscreen choice for anyone who loves convenient, long-lasting sunscreens.
Is Bullfrog Sunscreen Still in Business?
While Bullfrog never left, the once-familiar brand may have been hiding in plain sight for you following a 2013 rebrand. In 2012, Bullfrog was acquired by Sun & Skin Care Research (SSCR, LLC). Riding on the success of Bullfrog Mosquito Coast© being the top-selling combination sunscreen and insect repellent, Sun & Skin Care Research pivoted its focus exclusively to outdoorsmen.
Bullfrog Sunscreen Gets a Rebrand: Here's Where We've Been
In 2020, Bullfrog Sunscreen was acquired by new owners with a commitment to reviving the  brand that has been famous for sun and insect protection since it was launched in California in 1985. All the formulas in Bullfrog products you already know and trust have been fully maintained to provide the familiar feeling that has become synonymous with time spent outdoors for the past 40 years. In addition, Bullfrog's keeps all of its sunscreen-only products free of oxybenzone and octinoxate to be Hawaii Act 104 reef-compliant. Oxybenzone and octinoxate are two harmful chemicals that are known to harm coral reefs and marine life. Hawaii currently bans the sale of sunscreens containing these ingredients. Unfortunately, up to 80% of sunscreens sold today contain either oxybenzone or octinoxate. As a result, thousands of tons of sunscreen end up in the world's oceans each year. Bullfrog is committed to helping our customers avoid contributing to the destruction of the world's oceans by providing high-quality, effective Hawaii Act 104 reef-compliant sunscreen. We believe that Bullfrog customers deserve the safety and peace of mind of being able to buy products that are safe for the environment.
Today's Bullfrog Sunscreen also offers water and sweat resistance (80 minutes) that allows you to avoid breaking a sweat over sun protection when it comes to breaking a sweat outside! Parents can appreciate that Bullfrog allows for some time in the sun without the need to reapply immediately. Bullfrog's exclusive Water Armor TECH creates the ultimate high-performance protection. Of course, what makes this rebrand so fun is that Bullfrog's new branding and packaging bring back the nostalgic frog you know and trust for sun and DEET-free bug protection. People know they can trust Bullfrog products to leave their skin feeling amazing. All of our moisturizing sunscreens are indeed enriched with antioxidants and soothing plant extracts to leave your skin feeling better than ever.
Bullfrog is the preferred choice of families because it goes on easy without a sticky, greasing feel. Parents can feel confident about broad-spectrum SPF 50 protection that blocks out both UVA and UVB rays. Families can enjoy the same protection fishermen, surfers, and outdoors people have trusted for years to keep them protected. 
Bullfrog Mosquito Coast SPF 50 Plus Insect Repellent
Bullfrog's Mosquito Coast Sunscreen with built-in bug repellent can save time by bundling two kinds of long-lasting protection into one product for families on the go. This popular product is a favorite in the Bullfrog community because of its versatility and quality. Our DEET-free formulas are engineered to repel insects for up to eight hours and offer the same great SPF protection as our regular sunscreens. This convenient, water-resistant 2-in-1 protection beats the burn and the bite and is made with Aloe & Vitamin E to soothe and moisturize the skin. 
Where Can I Find Bullfrog Sunscreen & Insect Repellent?
It's easy to buy Bullfrog Sunscreen! Customers can order from the
complete product line
directly from the Bullfrog website, and leading retailers around the country also sell Bullfrog. Shop for Bullfrog from
Amazon
,
Walmart
, and more! If you need assistance finding the right Bullfrog sunscreen or bug-repellent combo, simply reach out to the Bullfrog
customer support team
. Never settle for average sunscreen again. Get back to basics with the same classic Bullfrog formulas you've known and loved since 1985!