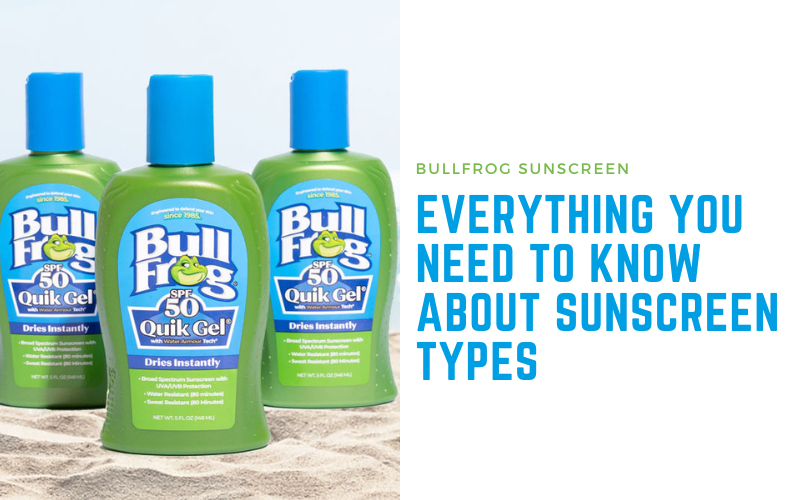 We all have different opinions when it comes to how sunscreen feels on our skin. Nobody needs to get boxed in with one-size-fits-all sunscreen. To find your perfect fit, the three types of sunscreen to choose from are gel, spray, and cream. A good brand of sunscreen will offer all three formulas with the same protection and performance levels across the board. Application, texture, and "skin feel" can be quite different for all three options. One of the big misconceptions is that sunscreen has to feel heavy on the skin in order to be effective. A sunscreen's "thickness" has nothing to do with its effectiveness.
In many cases, the ingredients that weigh sunscreens down are actually heavy oils and perfumes that have no effect on SPF protection. Only the SPF level of a product can tell you about the level of protection being offered. This knowledge can free you up to choose a sunscreen that feels magical on your skin! What is the best type of sunscreen for you? Dig in to learn about what makes gel, spray, and lotion sunscreens unique. 
1. Gel Sunscreen
Gel sunscreen has a refreshing, bouncy feel on the skin and feels very soothing and light during application. People with naturally oily skin often appreciate the "matte" finish of gel sunscreen on the skin. Gels are also fantastic if you find that regular sunscreens clog your pores. Gel sunscreens also go on "clear." That means you don't have to worry about excessive blending, especially if you are on the go. You can rest assured that a high-quality sunscreen brand like Bullfrog provides a high SPF50 gel that offers the same protection as sunscreens that feel heavier on the skin. Bullfrog's Gel Sunscreen is lightweight, incredibly fast-absorbing and dries 
instantly to let you get on with your active life.
2. Spray Sunscreen
What is the best type of sunscreen for someone who hates applying sunscreen? Many people who dislike the feel of sunscreen on their skin find that spray sunscreen offers a very comfortable experience. This is also a top pick among parents looking for an easy way to apply sunscreen to kids. Spray sunscreen is great for getting an even application. It also absorbs into the skin quickly. Parents love spray sunscreen because it allows for quick application without waiting for sunscreen to absorb! Overall, spray sunscreens tend to offer a lighter formula that helps you avoid the heavy, sticky feel of traditional sunscreens that bother some people. One tip for using spray sunscreen effectively is to gently rub it into your skin after application for better absorption. Always avoid using a spray application directly on the face. Many people question if spray can really be as effective as "heavier" options because it's so light on the skin. The answer is that spray sunscreen is every bit as effective as other options when it's applied appropriately.  
3. Lotion Sunscreen
Lotion sunscreen is the sunscreen most of us grew up with. A solid choice for thorough coverage and hydration, cream or lotion sunscreen is still popular among people of all ages. Rich and soothing, lotion sunscreen needs to be worked into the skin slightly. Many people like the high visibility of cream during application because it helps them identify spots they've missed before blending the lotion into the skin to become invisible. In addition, a high-quality sunscreen's rich and nourishing texture can be hydrating for the skin. Bullfrog's Amphibious Lotion Sunscreen is enriched with antioxidants and soothing plant extract, to soften and heal skin even in the harshest environment.
Different Types of Sunscreen Have One Thing in Common
The one thing that all of the different types of sunscreen have in common is that they're only as good as their ingredients! While many sunscreen brands focus on gimmicky presentation, the effectiveness of your sunscreen comes down to a few things. Don't settle for any gel, spray, or cream sunscreen unless it offers these features:
Broad-spectrum UVA/UVB protection.

Water and sweat resistance.

Nourishment and hydration.

SPF 50.

Freedom from oxybenzone and octinoxate.

Hawaii Act 104 Reef compliance.
People who choose Bullfrog sunscreens never have to worry about sacrificing quality or protection when they use gels, sprays, or creams. Our same high-quality, natural ingredients are used across our entire collection of broad-spectrum SPF 50 gel, spray, and cream sunscreens. Bullfrog users also never worry about harsh ingredients that irritate the skin. Our soothing sunscreens are formulated with antioxidants and soothing plant extracts that leave your skin better than it started. Bullfrog also uses exclusive Water Armour TECH for ultimate high-performance protection when you're sweating and splashing during your time in the sun!
Don't just leave the focus on finding the best sun protection for your family! Bullfrog also offers two-in-one protection that combines all of the nourishing, natural ingredients of our sunscreens with DEET-free bug repellent. Once the trusted sun-and-bug brand for fishermen, surfers, hikers, and outdoor enthusiasts, Bullfrog has become the brand families trust to stay protected from the sun during all outdoor adventures. What is the best type of sunscreen for your skin? Shop the Bullfrog collection today to find your favorite formula!