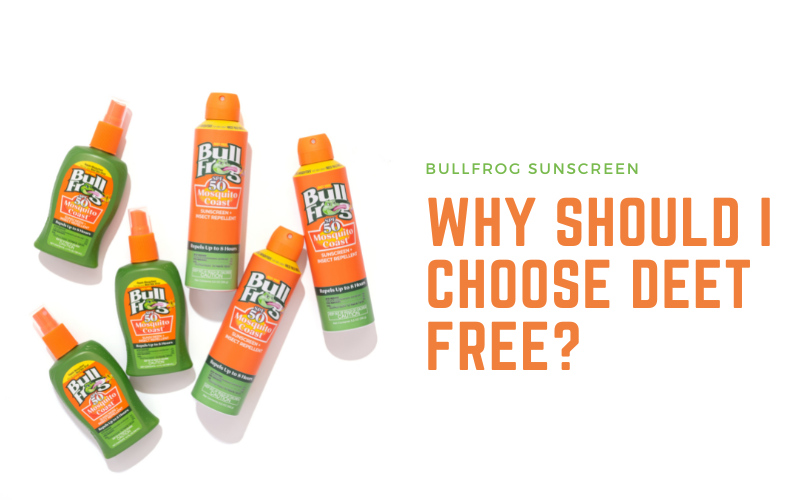 Some bug repellants come with significant consequences for your family's health. In fact, health advocates have been sounding the alarm on bug repellents containing a substance called DEET (N,N-diethl-myeta-toluamide) for years. Despite data confirming potential links between DEET and major health risks, DEET is still an active ingredient in many mainstream insect repellent products. You may have unknowingly been spraying your family with this chemical for years without realizing that it requires extreme caution. The good news is that finding the best DEET free insect repellent allows you to enjoy the great outdoors fully protected. Don't choose a bug spray that can come back to bite you! Learn more about making the switch to DEET free insect repellent. 
Is DEET Bad for You?
"The American Academy of Pediatrics (AAP) does not recommend DEET products for children younger than 2 months old and cautions against using any repellent with more than 30 percent DEET on children of any age," shares What to Expect. The Environmental Protection Agency's own data links seizures and death to DEET use. Most DEET defenders point to the fact that DEET-related health incidents appear to be linked with improper application of DEET. This provides little peace of mind for parents who are all too aware that monitoring dangerous substances with kids around is no easy task. What's more, tens of thousands of calls made to poison control centers have been linked to DEET products. 
"Accidental" DEET exposure can occur easily when using DEET products for bug protection. When spraying DEET, it's easy to accidentally breathe some in without even realizing what's happened. Additionally, it's very easy to eat DEET by forgetting to wash your hands before eating. Any child putting their fingers in their mouth after brushing their hand over skin sprayed with a bug repellent containing DEET will consume untold amounts of this chemical. Research has also confirmed that small amounts of DEET are taken into the body through the skin with routine application. Isn't it better to avoid DEET risks by switching to a DEET free bug spray?
DEET is still legally used in mainstream products because the U.S. Department of Health and Human Services (DHHS) and the U.S. Environmental Protection Agency (EPA) have not classified DEET as carcinogenic. However, the health risks are known widely among government agencies. For example, data published by the Centers for Disease Control (CDC) warns consumers that DEET products can trigger the following adverse reactions in humans:
Seizures.

Uncoordinated movements.

Agitation.

Aggressive behavior.

Low blood pressure.

Skin irritation.
In rat studies, pregnant rats fed DEET before and during pregnancy gave birth to rat pups that went on to weigh less than average. This is one of the reasons why pregnant women are often advised to avoid DEET products. DEET may also have negative consequences for the environment when it's permitted to enter water supplies. 
"DEET can enter the air during spray applications," according to CDC documents. DEET can also get into surface waters when people wearing DEET products on their skin enter these waters. Moreover, people who bathe or shower after applying DEET can cause DEET-contaminated wastewater to enter sewage treatment facilities and get released into waterways. 
There's a better way. DEET free bug spray protects your family from insects without the risks associated with DEET. In addition, these products can nourish and soothe skin without the irritation and harshness of DEET sprays.
DEET Can Make Sunscreen Less Effective
It's only natural to want to apply sunscreen and bug repellent while enjoying the outdoors. However, DEET has been shown to reduce sunscreen's ability to screen out ultraviolet (UV) radiation. The Skin Cancer Foundation shares that combining DEET with sunscreen leads to more than a 30% reduction in SPF power. What's more, sunscreens enhance DEET absorption into the skin to increase toxicity risks.
Should I Choose DEET Free Insect Repellent Instead?
"One of the most important forms of mosquito control is to wear bug spray when you plan to be outdoors during mosquito season — which can start as early as February and end as late as November for Gulf Coast residents," according to experts. Discovering that you may have unknowingly been using products containing harmful chemicals for years can be harsh. However, you don't need to swear off insect repellent forever in order to stay safe from chemicals. 
Natural alternatives to DEET bug sprays exist! Millions of people have already made the switch after learning the dirty secrets of DEET. Giving up DEET doesn't have to mean giving up long-lasting, effective protection against pesky and dangerous bugs and insects. According to dermatologists, products containing natural DEET alternatives have staying power similar to many DEET-based repellents. 
It's no secret that Bullfrog sells what many people consider the best DEET free insect repellent on the market today. Trusted by fishermen, surfers, and outdoor enthusiasts for decades, Bullfrog has now become the brand families trust for "sun and bug" protection. The brand's DEET free bug spray doesn't just provide long-lasting protection against insects. Bullfrog's Mosquito Coast insect repellent comes with broad-spectrum SPF 50 sunscreen protection. It not only protects against the sun and bugs, but it soothes and nourishes the skin using aloe, vitamin E, and other botanicals. Yes, Bullfrog offers two-in-one protection that goes on easily without sticky, drippy messes!
Why live with worry about the bug spray you're exposing your family to the next time you enjoy the outdoors? With Bullfrogs Mosquito Coast insect repellent and sunscreen, families can enjoy eight hours of continuous protection against bugs and insects with zero worry! Shop the Bullfrog collection to discover the best DEET free insect repellent you can buy!