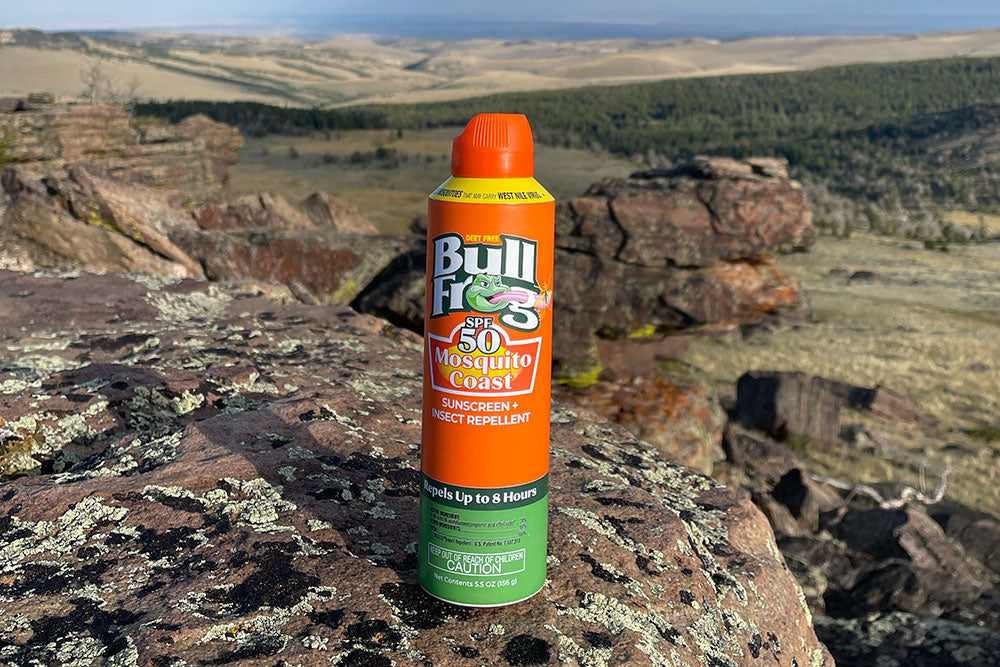 It's wild out there! With your active lifestyle, convenience and quality is everything. To truly embrace the wild without getting burned and bitten, only natural protection will do against UV rays and insects. That's why Bullfrog Mosquito Coast Sunscreen & Insect Repellent is the favorite choice for families to stay protected against all the wild things that make the outdoors unpleasant.
Since 1985, we've formulated the best sunscreen with broad-spectrum SPF 50 protection and DEET free insect repellent. Yes, just one spritz does both with Bullfrog Mosquito Coast Sunscreen & Insect Repellent. Some sunscreen and insect repellent brands pack their products full of chemicals that make you think twice. There's no controversy here! All of Bullfrog's safe, long-lasting, and easy-to-apply sunscreens and insect repellents are free of DEET and picaridin.
What Makes a Good Sunscreen?
Sunscreen doesn't have to feel sticky, icky, and oily to work. Unfortunately, many people skip sunscreen precisely because they hate the feel of it. A good sunscreen should be smooth, soothing, pleasant, and free of irritants. It should also be potent enough to protect your skin against harmful ultraviolet rays that increase your risk for developing skin cancer.
UVA vs UVB Explained
UVA and UVB rays are equally dangerous for your skin for slightly different reasons, and that's why safe sunscreens need to protect against both. Let's meet your skin's enemies.
UVA rays are longer wavelengths that penetrate the skin deeply to cause genetic damage to skin cells that can lead to premature aging, wrinkles, fine lines, sunspots, and skin cancer. UVB rays are rays with shorter wavelengths that penetrate and damage the outermost layers of the skin causing burning and blistering. Like UVA rays, UVB rays are linked with skin cancer.
UVA and UVB rays make quite an inescapable duo. While you may associate sunscreen with summertime fun, UVB rays damage your skin throughout the year. Reflective snow and ice during wintertime can actually make UVB rays stronger. UVA rays are incredibly sneaky because they can penetrate windows, windshields, and cloud coverage.
High SPF
"Dermatologists recommend using a sunscreen with an SPF of at least 30, which blocks 97% of the sun's UVB rays," according to the American Academy of Dermatology Association. While no sunscreen can block out 100% of UVB rays, higher SPF levels provide more effective blockage than lower SPF levels.
DEET and Picaridin Free
Skip the DEET if you want to avoid a chemical called N,N-diethyl-meta-toluamide, which is the active ingredient in most off-the-shelf insect repellent products. DEET is known to cause some people rashes, skin irritation, and eye irritation. There have even been reported cases of seizures associated with DEET usage.
Picaridin is a pesticide commonly used as an ingredient in insect repellent products. The toxicity of picaridin makes many people hesitant to use or try products containing picaridin on their skin. Picaridin has been linked with skin irritation, eye irritation, oral irritation, and inhalation toxicity. What's more, picaridin is actually lethal to some forms of wildlife. One recent report found that insect repellents containing picaridin are lethal to salamanders.
Protection Against Multiple Types of Insects
It's essential to select a bug repellent sunscreen product that offers protection against the insects that threaten your health and safety. That includes mosquitos, ticks, chiggers, gnats, flies, and fleas. Keeping bugs away means protecting against Zika virus, Lyme disease, and more.
Easy Application
Skip the hassle of "doubling up" by using a bug repellent sunscreen that lets you apply both at once. Our spray or pump options give you the flexibility to choose what application is right for you. When you use Bullfrog Mosquito Coast Sunscreen & Insect Repellent, you'll enjoy a formula made with aloe and vitamin E to soothe and moisturize your skin naturally.
Long Lasting
Bugs don't quit. When combating a problem as relentless as insects, you need an insect repellent that doesn't quit just moments after settling on your skin. A good product should provide consistent protection that allows you to go up to eight hours without reapplying. Bullfrog offers all-day protection against the common bugs that bug you.
What's in Your Daypack? Beat the Burn and the Bite With the Best Mosquito Repellent Sunscreen
Bullfrog Mosquito Coast Sunscreen & Insect Repellent gives you the confidence to enjoy the outdoors with a two-in-one water-resistant insect repellent sunscreen that beats the burn and the bite with a single spray. The whole family can spray and go! In addition to providing eight-hour protection, this soothing, natural combo makes your skin feel great without using controversial DEET and picaridin. Don't get caught in the wild without your natural protection! Order your Bullfrog Mosquito Coast Bug Spray Insect Repellent + Sunscreen SPF50 Continuous Spray, 2 pack today!