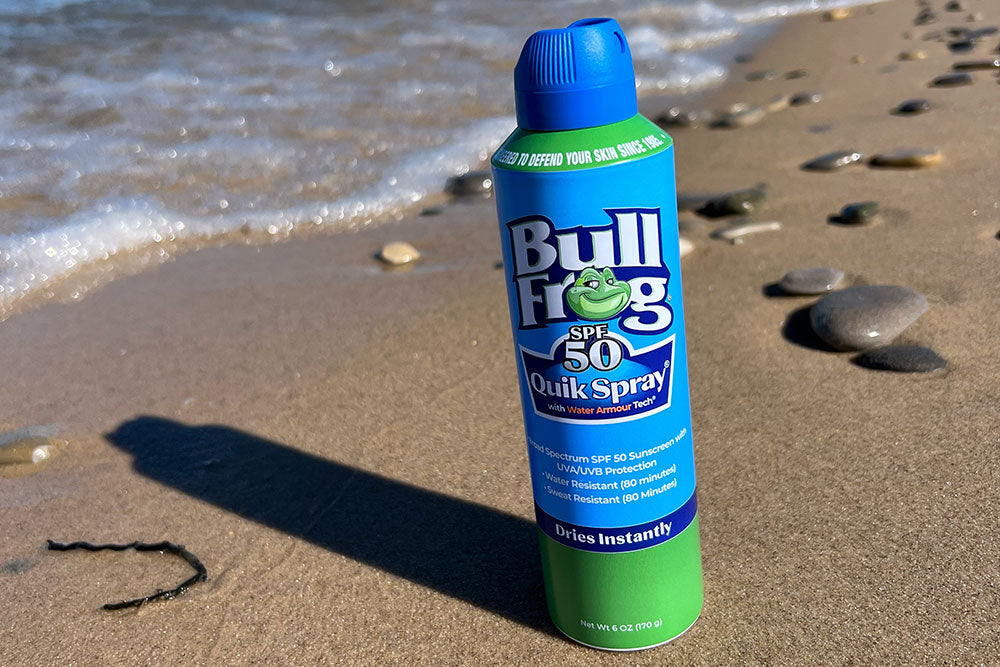 You want a quick dry sunscreen that keeps up. Bullfrog knows that long-lasting sunscreen allows you to trek longer, play harder, and keep your momentum without a second thought. That's why we created the best spray sunscreen for quick application with lasting power. 
Bullfrog Quik Spray defies the clock by providing the best sunscreen with SPF 50. Parents agree that it's the best sunscreen for kids because it's safe, soothing, and so easy to apply. No more sunscreen fights when it's time to reapply! Our continuous spray technology makes this the best quick dry sunscreen for anyone who likes fresh, non-goopy coverage that goes on in seconds.
For nearly 30 years, Bullfrog Sunscreen has been the chosen brand for anyone that enjoys spending time outdoors. Our products are made to protect you from all of life's adventures so you can get back to doing what you love. Feel at ease knowing our quality SPF is safe and effective for you and your family. We want you to focus on what matters, and that's making outdoor memories that will last a lifetime. Customers count on Bullfrog Sunscreen since 1985 to  provide broad-spectrum UVA/UVB protection, and a reef friendly (Hawaii Act 104 Reef Compliant) sunscreen. Our Water Armour TECH for ultimate high-performance protection offers long-lasting sweat and water resistance in the most extreme conditions. Enriched with antioxidants and soothing plant extracts, our safe sunscreen always leaves your skin better and absorbs and dries instantly. The Bullfrog lineup of two-in-one safe sunscreens and bug repellent offers skin defense for the whole family!
What is Reef Friendly Sunscreen & The Hawaii Act 104?
Hawaii Act 104 bans the sale and distribution of sunscreens with Oxybenzone and Octinoxate in Hawaii. This was signed and taken into effect as of January 1, 2021. This legislation was a big step in the sunscreen industry, pushing skincare companies to make reef-safe sunscreen a priority. 
When searching for a good sunscreen, the best basis for 'reef-safe sunscreen' is the 'Hawaii Act 104 reef-compliant.' This will confirm that a product is free from Oxybenzone and Octinoxate — the two main harmful ingredients cited in research. 
The purpose of this law is to preserve marine ecosystems, including coral reefs. Scientific studies have shown that oxybenzone and octinoxate are toxic to corals and other marine life. Our natural environment is fragile and Bullfrog Sunscreen aims to protect that. It's with pride that we manufacture our sunscreens in compliance with the Hawaii Act 104. 
What Makes a Good Spray Sunscreen?
 We all need adequate protection against the sun's harmful UV rays. According to experts, that means consistently wearing sunscreen with adequate SPF protection when spending time outdoors. The Skin Cancer Foundation recommends a water-resistant, broad-spectrum sunscreen with an SPF of 30 or higher for any extended outdoor activity.
 It's also important to select safe sunscreens that you're likely to use. The unpleasantness of most mainstream sunscreen products causes many people to skip sunscreen when sun protection is critical. That's because goopy, sticky messes that leave streaks all over your body, clothes, and car are annoying. The real pro tip? Switch to a quick spray that goes on with a continuous spray to leave you flawless coverage on land and in the water. Hate stickiness? Bullfrog Quik Spray is made with antioxidants and soothing plant extracts that leave skin feeling amazing with every spritz. It also fights those dreaded "forgotten patches" that leave you with itchy, burned, and vulnerable skin by offering a quick spray application that allows you to cover your whole body evenly.
Should Sunscreen Protect Against UVB and UVA Rays?
 Watch out for sunscreen brands that try to get away with only providing partial protection. The best sunscreen is a broad-sunscreen that protects against both UVA and UVB rays. Everyone is vulnerable to UVB and UVA rays throughout the year, and that's because they can penetrate cloud coverage, glass, and clothing. 
 While most of us know that ultraviolet (UV) rays are harmful to the skin, not everyone knows that there are actually two types of UV rays. UVB rays are the harmful rays that are responsible for producing sunburns. UVB rays also cause a deadly form of skin cancer called malignant melanoma. Another type of UV ray called the UVA ray is the "skin destroyer." UVA rays penetrate the skin more deeply than UVB rays contributing to skin aging and wrinkle formation. Like UVB rays, UVA rays can cause skin cancer. Sunlight contains 500 times more UVA rays than UVB rays. However, sunscreens that aren't labeled as broad-spectrum sunscreens do very little to block UVA rays.
The Best Spray Sunscreen Needs to Last
 Long lasting sunscreen lets you play on your schedule instead of setting your timer for reapplication. While no waterproof sunscreen can last forever, some barely last at all. That means that your skin is vulnerable from the moment you slip into the water, feel a mist, or break a sweat. It's essential to look for a sunscreen that offers sweat and water resistance for at least an hour to provide a buffer for enjoying your activity without being left exposed. In addition, an easy-on spray makes it more likely that you'll get in the habit of consistently reapplying protection. 
Don't Let Your Skin Get Caught Without Waterproof Sunscreen
 Bullfrog Quick Spray SPF 50 Sunscreen offers broad-spectrum protection. Made from antioxidants and soothing plant extracts that pamper your skin, our reef friendly (Hawaii Act 104 Reef Compliant) sunscreen is free of the harmful oxybenzone and octinoxate used in most sunscreens. It offers water protection and sweat resistance for up to 80 minutes. For those who play hard, Bullfrog's Water Armour TECH has you covered with the ultimate high-performance protection that other sunscreens can't match. Order your Bullfrog Quik Spray Sunscreen SPF 50 today!