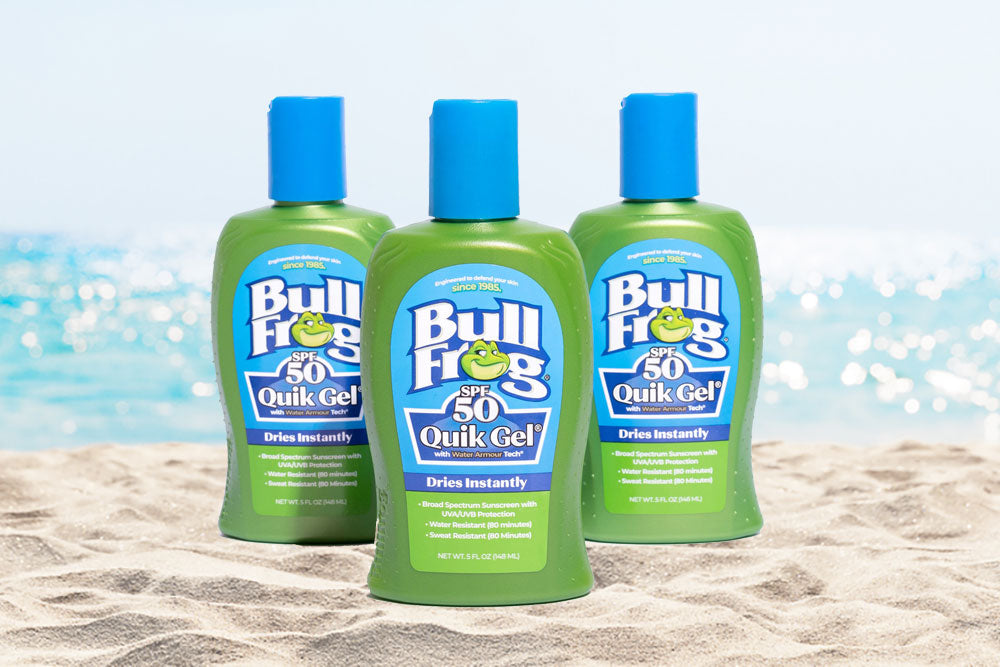 Need an SPF 50 sunscreen that gels with your busy lifestyle? For fun-seekers, athletes, and families on the go, Bullfrog Quick Gel SPF 50 Sunscreen keeps you gliding along with adequate sun protection. This ultra-light, non-greasy formula offers broad-spectrum UVA/UVB skin protection for the ultimate skin defense. Enjoy water and sweat protection for 80 minutes! 
 Bullfrog natural gel sunscreen represents the latest in long lasting sunscreen from the brand people have trusted since 1985. Gel sunscreen is the perfect choice if want to protect your skin using a product that:
Doesn't clog pores (non-comedogenic).

Uses water as a base.

Doesn't make skin oily.

Never feels sticky.

Leaves skin soft and soothed.

Doesn't contain irritants.

Hydrates skin.

Enhances photoprotection.

Lets skin glisten and glow.

Spreads easily!
 One of the most significant benefits of gel sunscreen is that gel-based formulas create a film layer over the skin that's slightly denser than what's left behind by most sprays and lotions. This helps to enhance photoprotection against the sun's harmful UVA rays. Bullfrog Quik Gel SPF 50 Sunscreen uses Sweat TECH technology that keeps the sun from penetrating your skin while allowing sweat to pass through for the ultimate in breathable sun protection.
 In addition to protecting your skin from cancer risks, a safe gel sunscreen just might help you stave off wrinkles, sunspots, and other sun-induced signs of aging. Bullfrog's reef friendly (Hawaii Act 104 Reef Compliant) sunscreen also contains soothing antioxidants and plant extracts to make the best sunscreen for all day and it feels amazing on your skin! That's why it's a popular option from our collection of sunscreens and insect repellent. 
What is Reef Friendly Sunscreen & The Hawaii Act 104?
Hawaii Act 104 bans the sale and distribution of sunscreens with Oxybenzone and Octinoxate in Hawaii. This was signed and taken into effect as of January 1, 2021. This legislation was a big step in the sunscreen industry, pushing skincare companies to make reef-safe sunscreen a priority. 
When searching for a good sunscreen, the best basis for 'reef-safe sunscreen' is the 'Hawaii Act 104 reef-compliant.' This will confirm that a product is free from Oxybenzone and Octinoxate — the two main harmful ingredients cited in research. 
The purpose of this law is to preserve marine ecosystems, including coral reefs. Scientific studies have shown that oxybenzone and octinoxate are toxic to corals and other marine life. Our natural environment is fragile and Bullfrog Sunscreen aims to protect that. It's with pride that we manufacture our sunscreens in compliance with the Hawaii Act 104. 
How Do You Pick a Good Gel Sunscreen?
When shopping for the best gel sunscreen, all the same rules for sun protection that apply for choosing good sunscreen creams, sprays, and sticks still apply. Skincare experts recommend using an SPF of at least 30 with broad-spectrum protection. Selecting a broad-spectrum sunscreen is important because harmful, cancer-causing UV rays can penetrate cloud coverage, glass, and clothing to damage your skin when you think you're safe. Many products leave your skin vulnerable by only protecting against UVB rays instead of providing complete protection for both UVB and UVA rays. 
Why Does Sunscreen Need to Protect Against UVA and UVB Rays?
 The sun contains both UVA and UVB rays. While a sun ray has 500 times the number of UVA rays compared to UVB rays, many sunscreens skip UVA protection. UVA rays are associated with a process called photoaging that leads to wrinkling, premature skin aging, and skin cancer. You might not even realize that your skin is being harmed daily because the effects of UVA rays can be subtle. That's why many sunscreen brands only protect against burn-causing UVB rays. You need broad-spectrum protection against both immediate sunburns and long-term skin damage. 
Do You Need a High SPF to Be Protected?
 An SPF of at least 30 is recommended any time you're outdoors. However, upping your coverage to SPF 50 provides slightly better protection, and SPF isn't the whole story for outdoor protection. Always opt for a sunscreen offering at least a full hour of water resistance if you'll be swimming or sweating during your time outdoors. Sunscreens that aren't designed for water protection leave you vulnerable the moment the surface of your skin becomes wet.
Look for a Sunscreen That Goes on Easily
 One of the reasons why people are switching to gel sunscreens when looking for the best sunscreen for all-day protection is because they love the feeling of soothing, non-sticky gel. A high-quality gel sunscreen dries quickly on the skin to create a fresh, moisturized feeling that's never oily. Many people find that gel sunscreen leaves their skin looking fresher and more radiant.
Find a Long Lasting Sunscreen
The best gel sunscreen should offer durable protection in both dry and wet conditions. While most of us know that water-resistant sunscreen is essential when playing in the water, it's easy to forget that sweat can have the same effect as waves when it comes to wiping away your sun protection. When we perspire while wearing sunscreen that doesn't offer water protection, we expose our skin to harmful UVB and UVA rays without realizing it!
Does Your Quick Dry Sunscreen Gel With Your Lifestyle? Upgrade to the Best Natural Gel Sunscreen for Families!
Bullfrog Quik Gel Sunscreen SPF 50 is the best safe gel sunscreen on the market. Our quick dry sunscreen leaves your skin looking fresh without oiliness, greasiness, or stickiness. It's a favorite of people with acne concerns because it's non-comedogenic. You'll also love the nourishment of this sunscreen if you have dry skin! 
You can feel good about Bullfrog's reef friendly (Hawaii Act 104 Reef Compliant) sunscreen because it's free of the harmful oxybenzone and octinoxate used in many sunscreens. Discover why our broad-spectrum quick dry sunscreen is the pick for people who love the smoothness of natural sunscreen. Order your Bullfrog Quik Gel Sunscreen SPF 50 today!